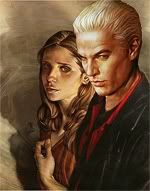 In June,
angearia wrote about upcoming comics covers :

So far we've had two covers released for Joss' final arc Last Gleaming. The first was of Spike and now Buffy. Both are understated portraits where the subject is facing the same direction, though Buffy's is far more vulnerable and she's gazing out, while Spike is more standoffish and distant. Allie said we weren't getting a Spike/Buffy cover, but frankly I think we just did. The attraction of Spike and Buffy is that they are very much themselves while together where as Buffy and Angel become this romanticized ideal of lovers. So a Spike/Buffy cover truly is where we receive two covers where both Buffy and Spike are posing and expressing emotion in this way. Spike and Buffy are being presented as the same while still separate, independent individuals--that's most definitely what a Spuffy fan would love to see.

I was making this manip, thinking about you, Emmie!

ETA:
ladyofthelog kindly offered to tweak coloring and did fantastic job with it. I change the initial pic for her final version. So, this manip is a joint work by me and
ladyofthelog - who totally rocks!